Der verrückteste Fotoapparat der Welt
Belichtungszeit: 1 Jahr
HIER ENTSTEHT EINE FOTOGRAFIE
Eine Camera Obscura (Lochkamera) die Tag und Nacht, Monate oder sogar Jahre lang fotografiert. Wenn Sie die Aufnahme beendet haben ist das Bild im Negativ fertig, ohne entwickeln und ohne Fotolabor.
The most insane camera of the world / Exposure time: 1 year / A PICTURE IS BEING TAKEN
Framed Camera Obscura (pinhole camera) which takes photos day and night, months or even years. If you finished the admission the picture is finished, without develop and without a photo lab.You cannot produce a photograph with less expenditure
Vor dem Belichten / Before exposure:
Die Belichtungszeit sollte 1 Jahr betragen.
Das Bild entsteht als Negativ, während der Belichtung. Die Lichtempfindliche Emulsion ändert durch die Lichteinwirkung seine Tonwerte und so kann sich das Abbild, langsam aufbauen. Deswegen gilt: Je länger Sie belichten desto besser – Das Bild wird Detailreicher.
The exposure time should be 1 year.
The picture is created as a negative, during the exposure. The light-sensitive emulsion is changed by his exposure to the light tones and so the image can slowly build up. Therefore, the longer you expose the better – The image is rich detail.
Nach dem Belichten / After exposure: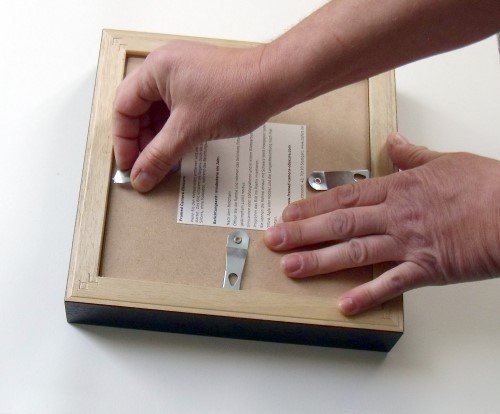 Öffnen Sie den Rahmen (bei gedämpftem Licht!!!) und nehmen das belichtete Fotopapier heraus.
Open the frame (in dim light!) and remove the exposed photo paper.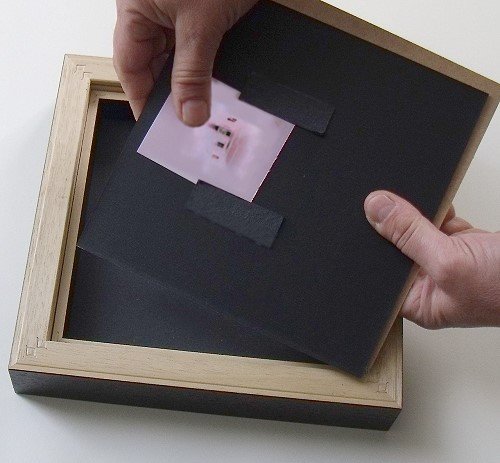 Jetzt haben Sie drei Möglichkeiten um das Bild zu "fixieren:
1. Als Erinnerung. Sie beobachten, wie das Bild durch die Lichteinwirkung langsam verschwindet.
2. Sie übertragen die Information auf andere Medien indem Sie das Negativ einscannen oder abfotografieren.
3. Sie schicken mir das belichtetes Fotopapier zu (mit beigelegtem an mich adressierten Briefumschlag). Ich scanne es ein und Sie bekommen per Post oder E-Mail das Ergebnis.
Now you have three options to fix the image :
1. As a reminder. They watch as the image by the effect of light slowly disappears.
2. You will transmit the information to other media by scanning the negative or photographed.
3. They send me a negative.. I scan and you will get the result by email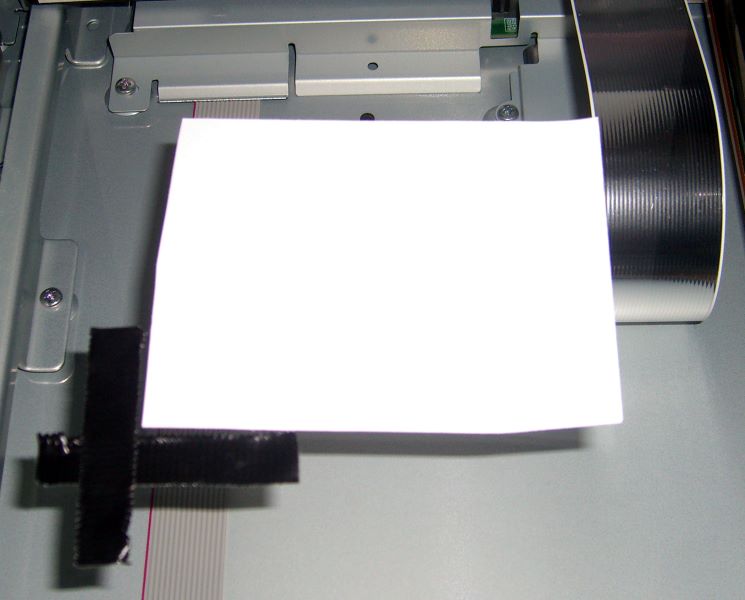 Beim einscannen wird das belichtete Fotopapier durch den durchlaufenden Lichtbalken zerstört. Deshalb darf kein "Vorschauscann" mit diesem gemacht werden, sondern mit einem Stück Papier in der Grösse des Originals (ca. 6×7 cm). Markieren sie die Stelle mit einem Stück Klebeband, legen sie dann das belichtetes Fotopapier auf die Markierung und scanen es mit guter Auflösung.
When You scan the exposed photo paper it will be destroyed by the passing light beam. That is why You should not do a "preview scan" with this, but with a piece of paper with the size of the original (about 6×10 inches). You mark the spot with a piece of tape, then You put the exposed photo paper on the mark and scan it with good resolution.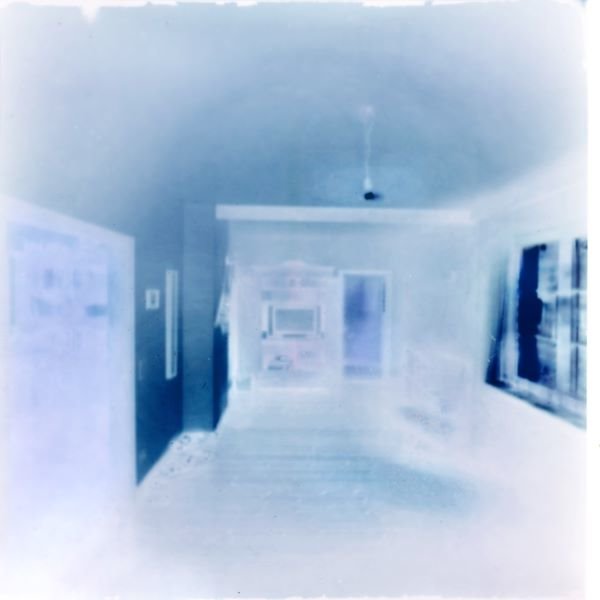 In einem Bildbearbeitungsprogramm wird das eingescannte Bild ins Positiv invertiert und die Helligkeit bzw. Kontraste verbessert. Das Bild entsteht in Farbe, weil sich das Silber während der Belichtung nicht in Graustufen sondern in verschiedenen Tonwerten verändert.
With an image editing program, the scanned image is inverted into the positive and improves the brightness and contrast. The image is generated in color, because the silver is not altered in grayscale but in different hues while the exposure.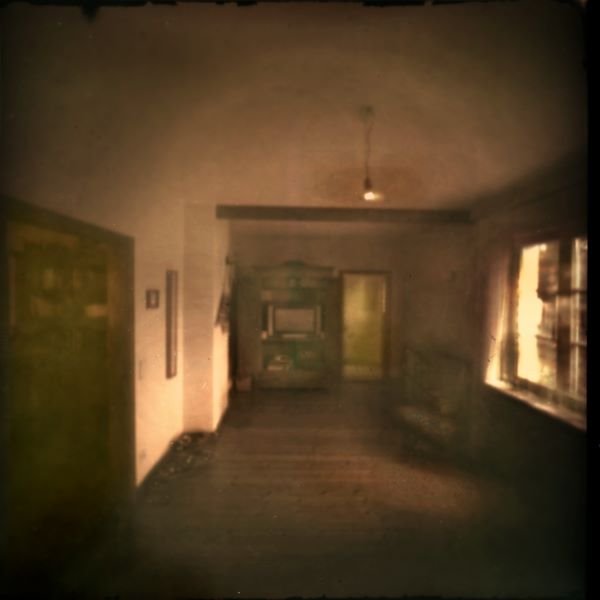 Das fertige Bild: Belichtungszeit: 1 Jahr
The final image: Exposure time: 1 year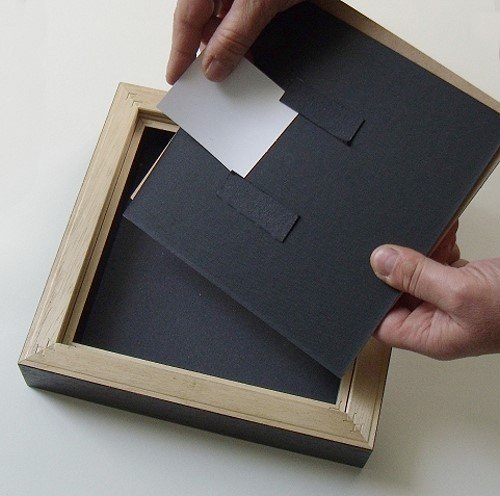 Sie können den Rahmen erneut mit Fotopapier laden (schwarzweiß Fotopapier, glänzend – Kodak, Agfa oder Ilford, bei Ebay günstig zu kaufen). Dazu wird keine Dunkelkammer benötigt, (es genügt ein Raum mit gedämpftem Licht) um die Langzeitbelichtung noch mal zu starten.
You can load the framework again with black and white photographic paper (black and white glossy photo paper – Kodak, Agfa or Ilford, on ebay cheap to buy). This requires no darkroom (even a room with subdued light) to start the long-term exposure again.
Anfrage / I
nquiry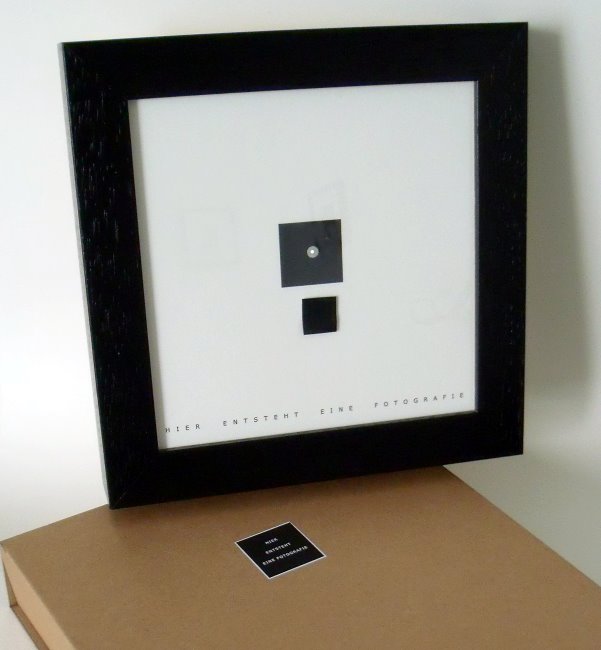 Inhalt:
– Rahmen aus schwarz lackiertem Holz ca. 24x24x4,5 cm  mit eingelegtem (auf der Rückwand) Schwarzweiß Fotopapier
– Loch in Alufolie: ca. 0,3 mm
– 5 Blatt Ersatz Fotopapier (reicht für 5 x 1 Jahr belichten)
– Einen Briefumschlag – Sie können mir das belichtete  Fotopapier zuschicken, ich scanne es ein und Sie bekommen per E-Mail das Ergebnis
– Beschreibung
– Belichtungszeit: 1 Jahr
Content:
– Frame made of black lacquered wood about 24x24x4, 5 cm, interleaved (on the back wall) black and white photo paper.
– Hole approximately 0.3 mm in tinfoil
– Description
– An envelope – you can send me the exposed photo paper, I scan it and you get E-mail the result
– 5 sheets of photo paper, (enough for exposures of 5 x 1 year)
– 1 nail
– Exposure time: 1 year